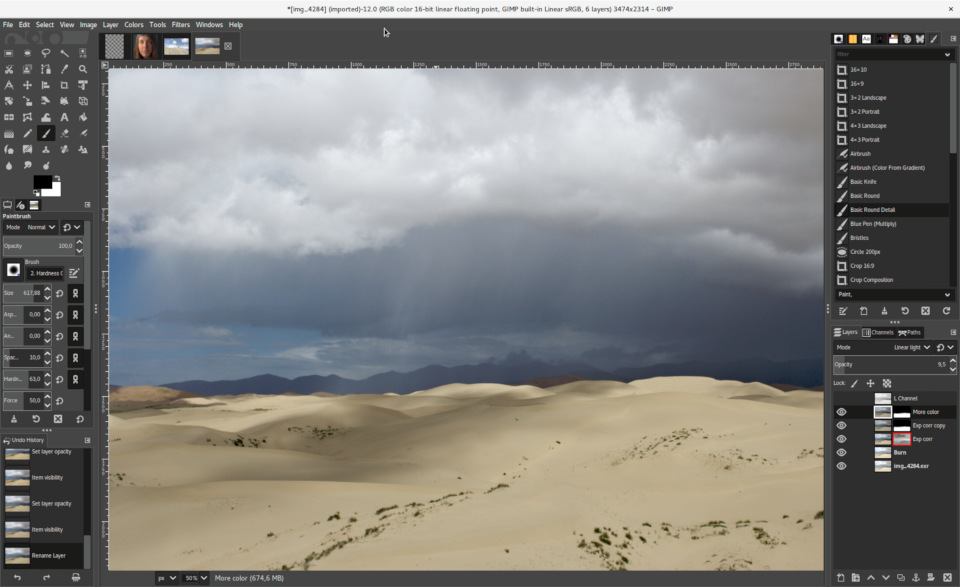 Dopo sei anni di duro lavoro il team di GIMP ha finalmente
rilasciato GIMP 2.10
. Questa nuova versione della migliore alternativa open source e multi piattaforma a Adobe Photoshop porta con se numerose migliorie nell'elaborazione delle immagine che ora è gestita dalla libreria GEGL, la gestione colore, miglioramenti agli strumenti e l'introduzione di nuovi, anteprima canvas per i filtri su GEGL, miglioramenti nel digital painting, supporto per WebP e nuovi formati di immagini, supporto HiDPI e nuovi temi.
Ecco una lista delle principali novità:
Image processing nearly fully ported to GEGL, allowing high bit depth processing, multi-threaded and hardware accelerated pixel processing, and more.
Color management is a core feature now, most widgets and preview areas are color-managed.
Many improved tools, and several new and exciting tools, such as the Warp transform, the Unified transform and the Handle transform tools.
On-canvas preview for all filters ported to GEGL.
Improved digital painting with canvas rotation and flipping, symmetry painting, MyPaint brush support…
Support for several new image formats added (OpenEXR, RGBE, WebP, HGT), as well as improved support for many existing formats (in particular more robust PSD importing).
Metadata viewing and editing for Exif, XMP, IPTC, and DICOM.
Basic HiDPI support: automatic or user-selected icon size.
New themes for GIMP (Light, Gray, Dark, and System) and new symbolic icons meant to somewhat dim the environment and shift the focus towards content (former theme and color icons are still available in Preferences).
And more, better, more, and even more awesome!
Per maggiori informazioni vi rimando alle note di rilascio
https://www.gimp.org/release-notes/gimp-2.10.html
Potete scaricare GIMP 2.10 all'indirizzo
https://www.gimp.org/downloads/
Se volete scoprire come installarlo grazie a flatpak fate riferimento a questa guida Installare GIMP 2.10 da flatpak su Ubuntu e derivate
Installare GIMP 2.10 da flatpak su Ubuntu e derivate
.