9 ottobre 2014
Rilasciata CAINE 6.0 "Dark Matter" 64bit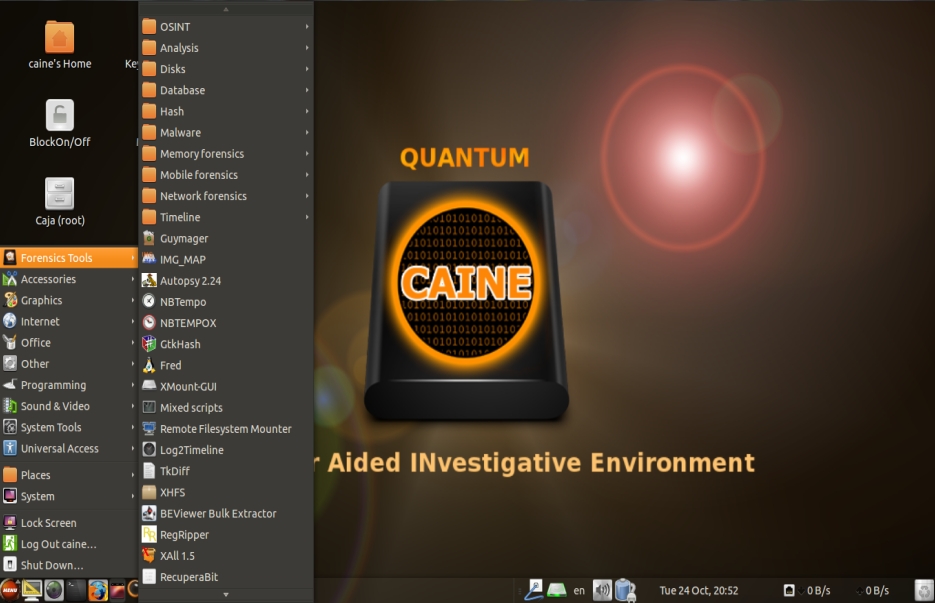 Nanni Bassetti ha annunciato il rilascio di
CAINE 6.0 "Dark Matter" 64bit
, la nuova versione della famosa e apprezzata distribuzione Linux dedicata alla computer forensic.
Questa nuova versione ha come base Ubuntu 14.04.1 64 Bit ed è compatibile con UEFI/SECURE BOOT. Vediamo le novità di CAINE 6.0:
Kernel 3.16.0-36
Basata su Ubuntu 14.04.1 64BIT - UEFI/SECURE BOOT Ready!
Caine 6.0 su pendrive può partire su Uefi/Uefi+secure boot/Legacy Bios/Bios.
Caine 6.0 su DVD può partire su Legacy Bios/Bios.
SystemBack è il nuovo installer
Cosa cambia:
fixed password request in polkit
fixed password request in textmode e tty
Bash bug fixed shellshock
mount policy always in ro and loop mode
fstrim disabled (enable uncommenting the row in /etc/cron.weekly/fstrim)
autopsy patched by Maxim Suhanov:
(HFS directories handling fixed,
Sun VTOC volume system handling fixed,
incorrect timestamps (that are equal to zero) are handled as 01/01/1970 00:00:00)
Gzrt
Img_map
QPhotorec (photorec gui)
Undbx
Ddrescueview
Gddrescue
Disktype
Peframe
Quickhash
BEViewer Bulk Extractor
Ddrutility
Ataraw
Frag_find
Log2timeline plaso - supertimeline
Tinfoleak
Inception memory dumper by firewire
Volatility
4n6-scripts
boot-repair
grub-customizer
Broadcom Corporation BCM4313 wireless card drivers
Oltre alla distro è stato aggiornato il programma per Windows chiamato Win-UFO.
Maggiori informazioni su questo nuovo rilascio nonché il link al download le potete trovare all'indirizzo
http://www.caine-live.net/
Licenza
Quest' opera è distribuita con
licenza Creative Commons Attribuzione - Non commerciale - Non opere derivate 3.0 Unported
. Questo blog non rappresenta una testata giornalistica, in quanto viene aggiornato senza alcuna periodicità. Non può, pertanto, considerarsi un prodotto editoriale, ai sensi della
legge n. 62 del 7/03/2001
Disclaimer immagini
Le immagini utilizzate in questo blog appartengono ai loro rispettivi autori e sono utilizzati per scopi educativi, personali e senza scopo di lucro. Ogni eventuale violazione del copyright non è intenzionale, ma se si riconosce un'immagine protetta da copyright, fatemelo sapere qui, e sarò lieto di aggiungere i credits o modificarla o rimuoverla.
Disclaimer images
Images used on this blog belong to their respective authors and are used for educational, personal and no profit purposes. Any eventual copyright infringement is not intentional, but if you recognize a copyrighted image, please let me know here, and I'll happily provide to add the right credits or modify or remove it.