29 novembre 2011
KDE Telepathy 0.2 rilasciato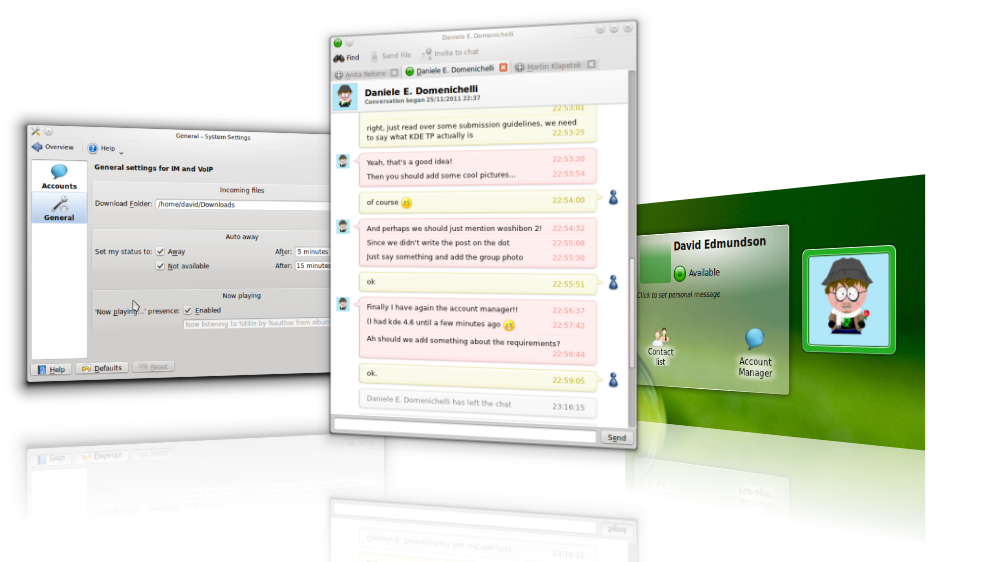 Buone nuove per i fan di telepathy e di KDE, oggi infatti è stato ufficialmente rilasciato
KDE Telepathy 0.2
Questo nuovo rilascio apporta le seguenti novità
KWallet integration for storing of passwords
A plasmoid for instant access to a contact
Ability to set your status to the currently playing track from Amarok, Clementine or any other mpris2-compatiable player
Auto Away
Progress bar and cancel button for file transfers
Over 130 bug fixes and tweaks since 0.1!
I tarballs sono disponibili sui server FTP di KDE al seguente link
http://download.kde.org/download.php?url=unstable/telepathy-kde/0.2.0/src/
.
Altre info e i link con i pacchetti per le varie distro sono disponibili al seguente link
http://community.kde.org/Real-Time_Communication_and_Collaboration/Packaging_Guide
Licenza
Quest' opera è distribuita con
licenza Creative Commons Attribuzione - Non commerciale - Non opere derivate 3.0 Unported
. Questo blog non rappresenta una testata giornalistica, in quanto viene aggiornato senza alcuna periodicità. Non può, pertanto, considerarsi un prodotto editoriale, ai sensi della
legge n. 62 del 7/03/2001
Disclaimer immagini
Le immagini utilizzate in questo blog appartengono ai loro rispettivi autori e sono utilizzati per scopi educativi, personali e senza scopo di lucro. Ogni eventuale violazione del copyright non è intenzionale, ma se si riconosce un'immagine protetta da copyright, fatemelo sapere qui, e sarò lieto di aggiungere i credits o modificarla o rimuoverla.
Disclaimer images
Images used on this blog belong to their respective authors and are used for educational, personal and no profit purposes. Any eventual copyright infringement is not intentional, but if you recognize a copyrighted image, please let me know here, and I'll happily provide to add the right credits or modify or remove it.